Florida Health Sciences Library Association Annual Meeting
Location: Courtyard Lake Buena Vista in the Marriott Village Orlando, Florida
Full Cost: $100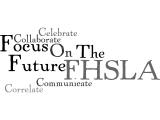 Mark your calendars, and make plans to attend the Florida Health Sciences Library Association Annual Meeting 2013, April 11-12, in Orlando. This year's theme is "Focus on the Future,"
and we will:
• explore strange new technologies
• seek out new resources and new promotional tools
• boldly go where no health sciences librarian has gone before (actually, we are just going next door from where we met last year)
The preliminary program, registration form, and hotel information can be found on our website:
http://www.fhsla.org/annual-meetings/2013/main.htm
Scholarships are offered to librarians, paraprofessionals, and students:
http://www.fhsla.org/awards-main.htm
The deadline to apply for a scholarship is February 14, which is approaching at light speed, so apply now!
Now is also great time to visit http://www.fhsla.org/membership-main.htm and renew your membership. Don't forget to sign up to be an officer or a mentor, and invite others to join as well. We're an intergalactic organization.